Team
The team consists of five positions which can be filled by a variety of actors.
| Position | Bonus | Description |
| --- | --- | --- |
| Assault | +30% Attack | Brings raw power and strength to your team's strategy. This role is responsible for dealing the greater damage, exploding things and wielding an enormous axe. |
| Assist | +20% Skill Regen | The dearest friend of everyone in the team, always optimistic and holiding the squad together through the toughest moments. Specializes in healing and bow attacks. |
| Lead | +50% Health | The leader of your squad. Taking responsibility for the group an always acting honorably. This role specializes in protecting and inspiring the rest of the team. |
| Scout | +1 Movement | The agile acrobat in the team, a daredevil warrior that brings movement and grace to the fight. Specializes in moving fast and stunning enemies. |
| Techie | Gain Skill Regen when you use any Skill | The teams most resourceful fighter, combining the use of items and weapons with a superior intellect. Specializes in long-range combat through skill. |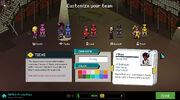 When starting a new episode players can customize their team. Each position on the team can be filled by a variety of actors. The name and color of the character is customizable as well.